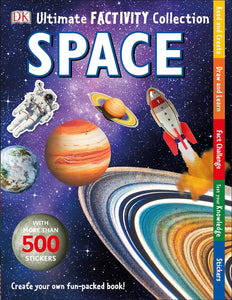 Ultimate Factivity Collection: Space: Create Your Own Fun-Packed Book!
Explore the universe and find out amazing facts about black holes, outer space, and stars in Ultimate Factivity Collection: Space. Full of fun activities and more than 500 stickers, this book teaches you everything you need to know about the final frontier. Journey through space to learn what exists beyond Earth and create your own book about the mysteries of the universe with Ultimate Factivity Collection: Space.
A fantastic series of sticker books that blends educational content with games, doodles, and puzzles, DK's Ultimate Factivity Collections are packed with activities for kids. Combining fun games and amazing facts about space, the human body, life under the sea, dinosaurs, animals, rocks, bugs, and fashion, these books are full of absorbing things to do that will keep kids occupied for hours. And because all you need are pens and pencils, our Ultimate Factivity Collections are the perfect way to learn and have fun — wherever you are.
---
We Also Recommend
---