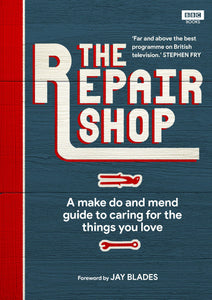 The Repair Shop: A Make Do and Mend Guide to Caring for the Things you Love
BBC's The Repair Shop is a place where Britain's most skilled and caring craftspeople rescue and resurrect items that owners thought were beyond saving. Their shared love of craft has helped hundreds of people recover and relive cherished memories, and inspired millions to rediscover their own prized possessions. The skill required to properly restore those items may be beyond most of us, but there are small things we can all do to care for the items we love the most. How do you replenish the stuffing in your child's beloved, tatty teddy bear, for instance? Or remove a water mark left on your wooden table? What's the best way to prevent your leather from cracking?

Direct from the Repair Shop's 'Workshop of Dreams', this 'make do and mend' guide collects advice and stories from each of the show's experts, to help you understand and care for those aging treasures and heirlooms around your house or gathering dust in the garage. Whether it's wood, ceramics, leather or silverware, you will get to know your materials, tools and terms from Britain's best, as the Repair Shop experts share their tips on restoring and conserving, reveal their favourite tools, and provide a series of small, manageable projects that help tackle the most common problems that occur in their given medium. Their book, like the show it accompanies, with help you safeguard your sentimental legacy for generations to come.
---
We Also Recommend
---