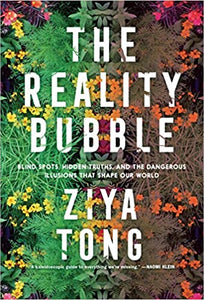 The Reality Bubble: Blind Spots, Hidden Truths, and the Dangerous Illusions that Shape Our World
From one of the world's most engaging science journalists, a groundbreaking and wonder-filled look at the hidden things that shape our lives in unexpected and sometimes dangerous ways.

Our naked eyes see only a thin sliver of reality. We are blind in comparison to the X-rays that peer through skin, the mass spectrometers that detect the dead inside the living, or the high-tech surveillance systems that see with artificial intelligence.

And we are blind compared to the animals that can see in infrared, or ultraviolet, or in 360-degree vision. These animals live in the same world we do, but they see something quite different when they look around.

With all of the curiosity and flair that drives her broadcasting, Ziya Tong reveals to us this hidden world, and takes us on a journey to examine ten of humanity's biggest blind spots. First, we're introduced to the blind spots we are all born with, and how technology allows us to see beyond our biological limits. Then in Section Two, we look at our collective blind spots and investigate how as a society we engage in willful blindness. There are cameras everywhere, she reminds us, except where our food comes from, where our energy comes from, and where our waste goes. Finally, in Section Three, we see how intergenerational blind spots--ways of thinking about the world that seem natural or inevitable but are in fact inherited world views passed on from generation to generation.

This vitally important new book shows how science, and the curiosity that drives it, can help civilization flourish by opening our eyes to the landscape laid out before us. Fast-paced, utterly fascinating, and deeply humane, The Reality Bubble gives voice to the sense we've all had--that there is more to the world than meets the eye.
---