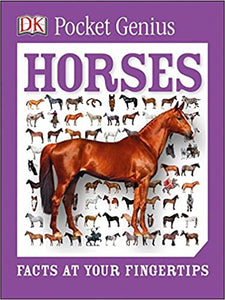 Pocket Genius: Horses
From the biggest Shire horse to the smallest pony, horses have been invaluable to people in work, sports, and leisure for centuries. Featuring more than 125 individual breeds of horses, ponies, and their cousins — zebras, mules, and donkeys — Pocket Genius: Horses looks at the anatomy and behavior of these beautiful animals at work and play. Young readers can learn about their color, markings, and evolution, plus read up on mythical horses, horses in literature, and famous stud farms around the world in this pocket-size encyclopedia.
Redesigned in paperback, DK's best-selling Pocket Genius series is now available in an engaging compact and economical format that is ideal for both browsing and quick reference for use in school and at home. Catalog entries packed with facts provide at-a-glance information, while locator icons offer immediately recognizable references to aid navigation and understanding, and fact files round off the book with fun facts such as record breakers and timelines. Each pocket-size encyclopedia is filled with facts on subjects ranging from animals to history, cars to dogs, and Earth to space and combines a child-friendly layout with engaging photography and bite-size chunks of text that will encourage and inform even the most reluctant readers.
---
We Also Recommend
---