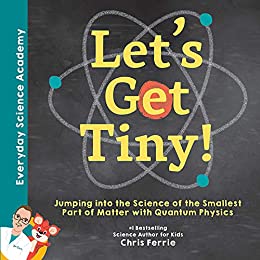 Let's Get Tiny!: Jumping into the Science of the Smallest Part of Matter with Quantum Physics
It''s time to bring Chris Ferrie''s unique brand of learning to the next level of readers beyond Baby University with a new series-Everyday Science Academy! Peek into a microscope with Dr. Chris and learn we are all made of atoms!
Looking through a microscope, Red Kangaroo discovers the world is full of small things her eyes can''t see. She asks Dr. Chris, What''s one of the smallest things in the world?" In his lab, Dr. Chris introduces Red Kangaroo to the world of atoms-from protons to electrons to neutrons. In this addition to the Everyday Science Academy series, young scientists will gain the knowledge they need to begin mastering quantum physics!"
By: Chris Ferrie
---
We Also Recommend
---