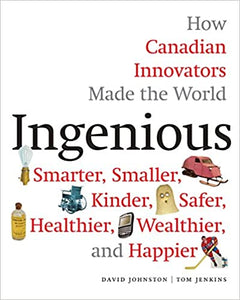 Ingenious: How Canadian Innovators Made the World Smarter, Smaller, Kinder, Safer, Healthier, Wealthier, and Happier
Successful innovation is always inspired by at least one of three forces -- insight, necessity, and simple luck. Ingenious moves through history to explore what circumstances, incidents, coincidences, and collaborations motivated each great Canadian idea, and what twist of fate then brought that idea into public acceptance. Above all, the book explores what goes on in the mind of an innovator, and maps the incredible spectrum of personalities that have struggled to improve the lot of their neighbours, their fellow citizens, and their species.
     From the marvels of aboriginal invention such as the canoe, snowshoe, igloo, dogsled, lifejacket, and bunk bed to the latest pioneering advances in medicine, education, philanthropy, science, engineering, community development, business, the arts, and the media, Canadians have improvised and collaborated their way to international admiration. Ingenious tells you why they did it and how they made the world a better place.
---