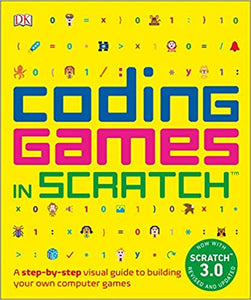 Coding Games in Scratch 3.0
Scratch 3.0 has landed! Stay ahead of the curve with this fully updated guide for beginner coders.

Coding is not only a highly sought-after skill in our digital world, but it also teaches kids valuable skills for life after school. This book teaches important strategies for solving problems, designing projects, and communicating ideas, all while creating games to play with their friends.


Children will enjoy the step-by-step visual approach that makes even the most difficult coding concepts easy to master. They will discover the fundamentals of computer programming and learn to code through a blend of coding theory and the practical task of building computer games themselves. 

The reason coding theory is taught through practical tasks is so that young programmers don't just learn how computer code works - they learn why it's done that way. 

With Coding Games in Scratch, kids can build single and multiplayer platform games, create puzzles and memory games, race through mazes, add animation, and more. It also supports STEM education initiatives and the maker movement.
---