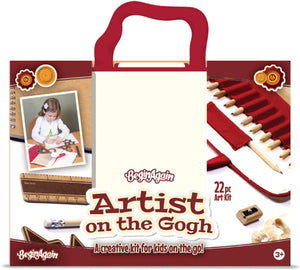 Artist On The Gogh – A 22-Piece Creative Art Kit for Kids On The Go!
Educational AND creative play: the artist on the Gogh art kit has limitless possibilities for creative fun! Incudes carry case with handle and plenty of pockets, 12 colored pencils, 2 standard pencils, four design stencils, a pencil sharpener and a sketch pad. The art kit measures 10" x 7" x 1" when closed and 10" x 14" when folded open.
Fine motor skills: is the coordination of small muscle movements, which occur in the fingers, usually in coordination with the eyes. Early development of these skills allows a child to be able to complete tasks such as writing, drawing and buttoning.
Eco-friendly Materials: our carry case is made from a durable canvas and the kit includes wooden pencils and compostable stencils.
Makes a perfect gift: our art kit, toys, games, and puzzles make excellent birthday presents, thoughtful baby shower gifts for expecting parents and make an amazing gift from grandparents anytime!
Well balanced play: We specialize in creating toys with a variety of ways to play. Our toys help promote fine motor skills, improve cognitive functions and encourage creative play to promote well-balanced child development. Benjamin barlowe believed that children have five distinct play personalities; the artist, writer, inventor, Sportster, and hero. These personalities form the acronym "awish". Benjamin Barlow always had awish for well balanced play.
---
We Also Recommend
---