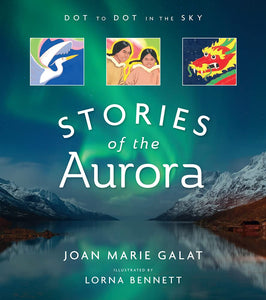 Dot to Dot in the Sky: Stories of the Aurora
The night sky is a treasure trove of stories filled with heroes, wild animals, and adventure. It's just a matter of knowing where to look. In this new edition of the Dot to Dot in the Sky series, Joan Marie Galat explores the legends and facts of the Aurora Borealis (Northern Lights).

Like the rest of the books in this series, Stories of the Aurora contains all the scientific facts a child should know about this beautiful phenomenon in the night sky. Beautifully illustrated by Lorna Bennet, it also chronicles the many legends surrounding the event including tales of the afterlife from the Inuit, a European & Mi'kmaq fairy tale and even a story from the ancient Romans on what an Aurora could possibly mean. These tales and more make this a one-of-a-kind book on this incredible phenomenon in the Canadian sky.
---
We Also Recommend
---