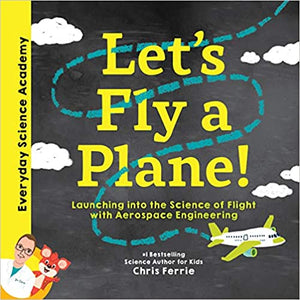 Let's Fly a Plane!: Launching into the Science of Flight with Aerospace Engineering
Equip the next generation of scientists with a brand new series from Chris Ferrie, the #1 science author for kids!
How do airplanes stay up in the sky? That''s the question Red Kangaroo needs answered and she knows exactly who can help her-Dr. Chris! Explore the four forces of flight-drag, lift, thrust and weight-and get ready to take off with this introduction to aerospace engineering.
Chris Ferrie offers a kid-friendly introduction to the science of flight in this first installment of his new Everyday Science Academy series. With real-world and practical examples, young readers will have a firm grasp of scientific and mathematical concepts to help answer many of their why" questions.
Perfect for elementary-aged children and supports the Common Core Learning Standards, Next Generation Science Standards, and the Science, Technology, Engineering, and Math (STEM) standards.
Back matter includes a glossary, comprehension questions aligned with Bloom''s Taxonomy and experiments kids can easily do at school or at home!"
By: Chris Ferrie
---
We Also Recommend
---