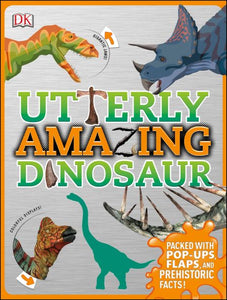 Utterly Amazing Dinosaurs
Visit the land before time in Utterly Amazing Dinosaur.
Packed with pop-ups, flaps, games, activities, and mind-blowing facts, Utterly Amazing Dinosaur explores the prehistoric world of dinosaurs, from the mighty T. rex to the armored Stegosaurus. See the different stages of how fossils are formed, and study the skeletons of different dinosaurs, and get up close to a Velociraptor with a special pop-up.
Learn about the dinosaurs that swam in the sea, stomped on land, or flew in the sky. Find out what different dinosaurs ate, from herbivore to carnivore to omnivore. The colorful illustrations clearly show the different types of dinosaurs, and the pronunciation guide teaches readers how to say those tricky dinosaur names.
From the biggest predators to the discovery of fossils, Utterly Amazing Dinosaur takes children back to an awe-inspiring era of history using innovate paper tricks to create fun and stunning effects.
---
We Also Recommend
---