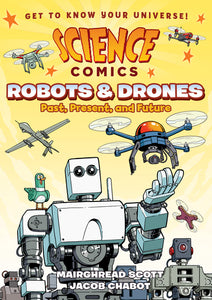 Science Comics Robots & Drones
In factories! In the sky! In your cars and phones! In your own home! Robots are everywhere! And they have been for a lot longer than you might realize.
From tea-serving robots in feudal Japan to modern rovers exploring Mars, robots have been humanity's partners, helpers, and protectors for centuries! Join one of the world's earliest robots, a mechanical bird named Pouli, as he explores where robots came from, how they work, and where they're going in this informative and hilarious new book! Ever dreamt of building your own best friend? It might be easier than you think!
Whether you're a fourth grader doing a natural science unit at school or a thirty year old with a secret passion for airplanes, these books are for you!
---
We Also Recommend
---