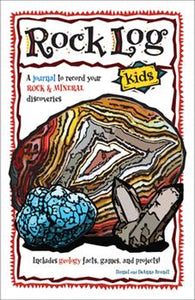 Rock Log for Kids
The positive effects of journaling--especially for children--have been celebrated for decades. Journaling helps to build self-esteem while also enhancing skills in writing, drawing, and observation! 
Rock Log Kids
 is the perfect introduction to journaling and to nature. Created by Daniel Brandt and DeAnna Brandt, the book's 60 Log pages present simple questions that gently guide children to record and to draw their important rock and mineral observations. An additional 5 Photo/Art pages are ideal for pasting pictures or creating more artwork. Plus, a Log Tips page offers special hints for using this book, and a Life List allows kids to keep track of all the different rocks and minerals found. The result is a one-of-a-kind keepsake that families will cherish forever. So bring 
Rock Log Kids
 on your next outing. Play some games, and try a project. Write about your experiences. Draw what you see. Have fun, and enjoy nature!
---
We Also Recommend
---