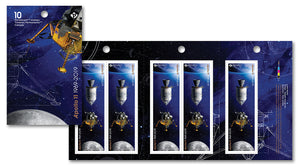 Apollo 11: Permanent Domestic stamps - Booklet of 10
Celebrate the 50th anniversary of Apollo 11, and Canada's contribution to the historic mission to the moon, with this booklet of 10 PermanentTM domestic stamps.
The five pairs of joined-and-inverted (tête-bêche) stamps in this booklet feature realistic illustrations of the spacecraft from the Apollo 11 mission. The upper stamp of each pair, with Earth at the top, depicts the command and service module. The lower stamp shows the lunar module descending toward the moon, where it landed successfully on July 20, 1969. More than 500 million people around the world were transfixed by blurry black and white television footage of astronaut Neil Armstrong taking humankind's first steps on the moon.
Helping make the historic moment possible were many Canadians who worked on the Apollo program. NASA engineers James Chamberlin and Owen Maynard, who are featured on the booklet, played key planning and design roles for Apollo 11. Employees at Héroux Machine Parts Limited (now Héroux-Devtek) in Longueuil, Quebec, manufactured the landing gear legs for the lunar module. The legs remain on the moon at Apollo 11's landing site in the Sea of Tranquility.
ISSUE DATE:

 

June 27, 2019
STAMP DESIGNER:

 

Subplot Design Inc.
STAMP VALUE: PermanentTM

 

(domestic rate)
QUANTITY PRODUCTS:

 

240,000
DIMENSIONS:

 

30 mm x 45 mm
---
We Also Recommend
---