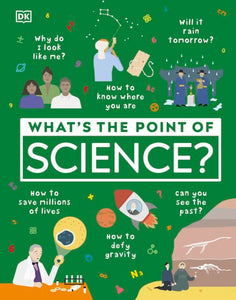 What's the Point of Science?
How scientists changed the world, one breakthrough at a time.

From the discovery of fire and the invention of the wheel to lunar landings and atoms, this book tells the extraordinary story of science and how it changed our world--one breakthrough at a time. Find out how history's most ingenious and daring scientists solved mysteries that had puzzled the ancient world for millennia, triggering an age of discovery that gave us telescopes, flying machines, steam engines, antibiotics, electricity, radio, space travel, and computers. Discover the amazing men and women who challenged conventional thinking and put their lives at risk to learn about everything from planetary orbits and gold to germs, gunpowder and radioactivity.

What's the Point of Science? explains in super-simple terms how science really works and why it brought the world out of the dark ages. It's packed with surprising facts, tales of ingenuity and endeavor, and beautiful hand-drawn illustrations that bring the human story to life and convey the sense of wonder that inspired great scientists past and present. It is guaranteed to inspire, surprise, amuse, and entertain readers of all ages and interests.
---
We Also Recommend
---